dodie reveals her saucy side in the video for new single I Kissed Someone (It Wasn't You)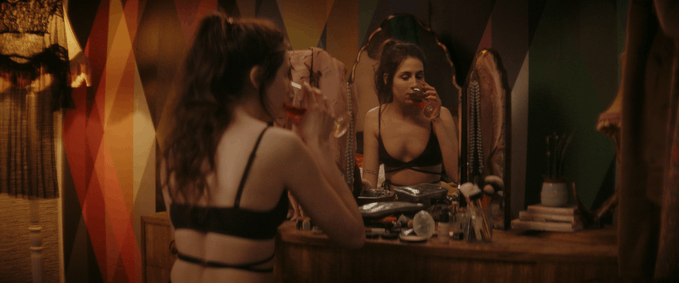 Dodie Clark, better known as singer-songwriter dodie, has released the video for I Kissed Someone (It Wasn't You), the latest single from her forthcoming debut album Build A Problem, due to be released on 7 May.
The music video, directed by Hazel Hayes, marries itself perfectly to the delicate ebb and flow of dodie's distinct musical style and reveals a raunchier side to the singer. In fact, Hazel joked on her Instagram she told dodie she couldn't wear the twee dungarees or a cutesy postman uniform that we are so used to seeing her in, hence the change in style.
In the video, we watch the former DIVA cover star start and end each night in the same way; sat at her vanity mirror, drinking a glass of wine and getting ready to go on yet another date with another person. Her dates seem to go the same way each time, and eventually, she ends up bringing them back to her room.



But, in classic Hazel Hayes style, there is an unsettling twist that adds a layer of eeriness to the music video; the people she dates start to lose their features and faces and, therefore, their identities.
When watching this beautifully shot piece of work, it's hard not to compare it to the perils of modern dating where it is now so easy to find lots of different people to date, without ever really getting to know them, until they all seem to blend into one.
Loss, longing and loneliness
dodie in the video for I Kissed Someone (It Wasn't You)

In dodie's words, the song "is set in the aftermath of a newly-single person's messy night out. It's the feeling of trying to patch over a broken, lonely heart by indulging in a revenge fantasy of promiscuity – sadly only resulting in feeling lost, lonelier and shameful.

"I wrote the song to take place in a drunken, dark mindset – teetering on the edge of sinking deep into the bad thoughts that alcohol can amplify, before snapping back in the verses to a slightly more grounded, but still sad, place," she said.

It's refreshing to see dodie, who has always been open about her sexuality in her music, bounce between people of different genders on her dating spree in the video, without making a big deal out of it. It adds confirmation that the experience of being newly-single and trying to fix a broken heart is a universal one.

When creating the concept for the video, Hazel said she really considered the meaning of the song. To her, I Kissed Someone is about a profound sense of loss, longing and loneliness that comes from losing someone you love, and how unhealthy attempts to fill that void often leave us feeling emptier than before.

"My vision for the music video was to create a literal and abstract reflection of these themes using a grounded love story mixed with nightmarish elements," she said. "It was a wonderful creative experience and I'm so grateful to dodie for trusting me with such a personal song and for allowing me to show a very different side of her than we've seen before."

In the end, we see the singer alone in her bed, looking bewildered, and we are left feeling just as unsettled and alone as she appears to be, which I think is exactly the feeling I Kissed Someone is trying to convey.

Divamag