Lizzo's 'Cuz I Love You' Is a Relentless Celebration of Self-Love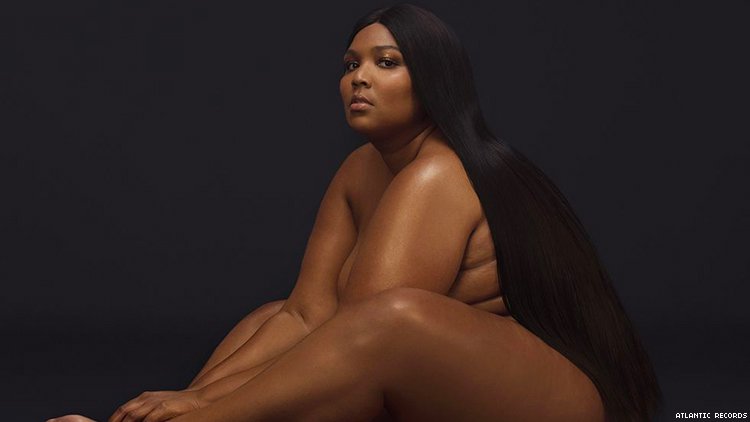 It felt impossible to escape "Good as Hell" in 2018. The self-love single was featured in television shows and several blockbuster films — it appeared in the end credits for both Amy Schumer's I Feel Pretty and Bad Moms' Christmas. And Lizzo herself appeared on RuPaul's Drag Race season 10 as a guest judge and watched contestants Kameron Michaels and eventual All Stars winner Monet X Change lip sync for their lives to the song, as well. It seemed like 2018 was Lizzo's year.
And then, 2019 happened.
Suddenly, the genre-defying singer was everywhere. Only four days into the year, Lizzo delivered "Juice," which Rolling Stone called the "first great song of the year." Though some people knew that the singer was also an accomplished flautist, in 2019, she let everyone know that jazz flute was cool again. A two-page spread of her butt appeared in New York Magazine accompanied with the declaration that everyone will soon love her.
And her debut gives you so much to love.
Cuz I Love You, technically Lizzo's third album but her debut on a major label, is an erratic, frantic and frenetic album that refuses to settle into a tempo or a genre, much like Lizzo herself. It's rare for an album to so embody the persona of its creator, but Cuz I Love You does just that. The album's eponymous opener is a reminder of just how soulful, brassy and powerful Lizzo's voice can be when given room to shine. If "Cuz I Love You" eases you into the album, "Like a Girl" pushes you forward at a breakneck pace. Lizzo has a tendency toward bombastic anthems and "Like a Girl," a female empowerment ode, is no different. The song calls out several other Black women who inspire Lizzo, like Lauryn Hill and Serena Williams.
Lizzo namechecks several other people on her album. On the track, "Heaven Help Me," she even shouts out Kesha with the lyric, "Kesha with the Tik Tok / say woah #TimesUp on these motherfuckers." At the heart of Lizzo's music isn't a singular experience, but a collective feeling of joy and self-love that can overcome any hardship. On the album's lead single "Juice," Lizzo pulls off the rare feat of giving you straight braggadocio while also making you feel like you're dripping in swag. Another song, "Tempo," is an ode to the power of big girls uniting on the dance floor. Lizzo's tracks seem to be building an army of love, looking to enlist us all.
Underneath the album's production are lyrics that speak to complicated journeys of self discovery. On "Soulmate," Lizzo sings about changing her worldview from searching for the one to being the one. "Better In Color" is a joyous ode to loving her own skin tone. At heart, as she sings on "Crybaby," — "I don't need to apologize / us big girls gotta cry" — Cuz I Love You is a celebration of being complicated and human, even when others refuse to understand.
That's not to say that Lizzo's debut is without its faults. The album is definitely over-produced at parts and often jerks from tempo to tempo without smooth transition. And there is definitely a huge difference in listening experience between the album's singles and non-singles. The thing is, most of the time you're having too much damn fun to care.
In that sense, Cuz I Love You truly does embody the best qualities of the singer at its center. It's confident and self-assured. It treats what one might think of a fault as an asset. It's packed from beginning to end with infectious energy that's sure to put a smile on your face. To listen to Lizzo is to experience joy, and she's brought it to us in droves.
Highlights: "Juice," "Tempo," "Better in Color," "Soulmate"

OUT
Tags: Lizzo