Cara Delevingne confirms she's dating Pretty Little Liars star Ashley Benson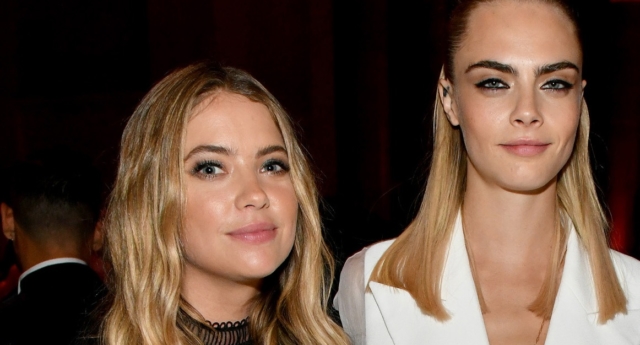 Ashley Benson and Cara Delevingne attend TrevorLIVE NY 2019 at Cipriani Wall Street on June 17, 2019 in New York City.



Cara Delevingne has confirmed she is in a relationship with her Her Smell co-star Ashley Benson.

The model and actress posted a photo on Instagram showing herself kissing Benson, ."

She went public by paying tribute to Benson while accepting an award at the TrevorLIVE New York Gala on Monday (June 17).
Cara Delevingne pays tribute to girlfriend Ashley Benson
Delenvigne said: "I also have another very special woman in this room to thank and you know who you are.
"She's one of the people who helped me love myself when I need it most and I really needed it.
"She showed me what real love is and showed me how to accept it, which was a lot harder than I thought. I love you, Sprinkles."
Ashley Benson and Cara Delevingne attend TrevorLIVE NY 2019 at Cipriani Wall Street on June 17, 2019 in New York City.
Benson, who attended the awards show with the model, shared the clip of Delevingne receiving an award on her Instagram Story, adding: "Love you @caradelevingne proud of you."
Speaking to E! Online about their decision to go public, Delenvigne said: "It is Pride, it's been 50 years since Stonewall happened and I don't know, it's been just about our one year anniversary so, why not?"
A source told the outlet: "They are very sweet and loving together. They are always doing simple nice things for each other and it all comes very easy and naturally. They are committed to one another and very much in love."
Benson is known for her role as Hanna Marin in Pretty Little Liars, and met Delenvigne while they were both starring in 2018's Her Smell.
Cara Delevingne and Ashley Benson shut down homophobic trolls


The pair previously hinted at their relationship in April when they shut down a homophobic troll together on Instagram.
Posting on Benson's Instagram, the troll had written: "Ashley I know you are here.


"I'm serious you need to stay away from that devil and never go back I'm sure many strong handsome religious men would take you back in a heartbeat.
"You are not like this you aren't gay you love men and you need one."
Cara Delevingne and Ashley Benson (Instagram)
Benson replied: "You need to mind your own business. Stop making things up."
Delevingne weighed in: "You are f**king disgusting! If you have a problem with true love then come and say this s**t to my face instead pathetically hating through Instagram.
"I genuinely feel sorry for you.. you are clearly not happy in your lives and have far too much time on your hands.
"Maybe get a hobby that doesn't involve being homophobic and hating others for being happy."
Delevingne, who identifies as queer, was previously in a relationship with Annie Clark, known as the singer St Vincent.
However, the pair are believed to have split in 2016.
Clark later confessed she had felt the strain of press coverage during the relationship, adding: "I was privy to this level of fame with Cara that was so intense and intrusive."

Pinknews
Tags: Cara Delevingne,, Ashley Benson