'The L Word' Reboot Finally Got a Premiere Date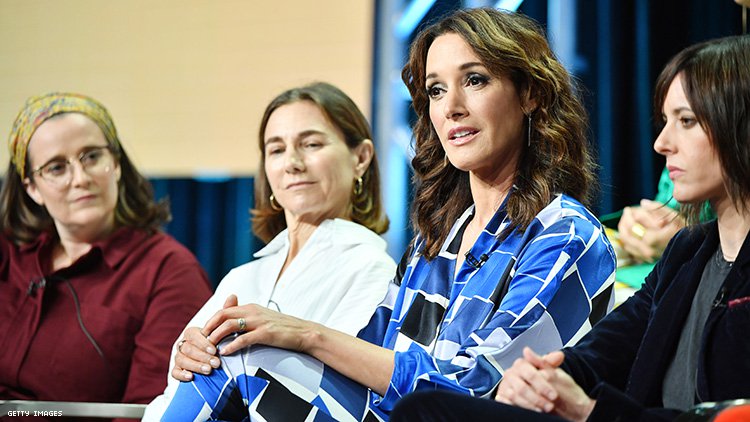 Mark your calendars, ladies, gents, and theybies. The L Word is set to release it's "Generation Q" in the late fall, Showtime announced.
The revival series reunites the original stars, Jennifer Beals, Katerine Moenning, and Leisha Haley.
Generation Q will also introduce an array of younger characters — Dani Nùñez, Micah Lee, Finley, Sophie Suarez, and Gigi — with a focus on queer culture.
"We have had a long conversation about [lesbians and trans people] and we are very plugged into the conversations that are coming out of the divide," executive producer Marja-Lewis Ryan told USA Today. "I strongly stand on the side of inclusivity. We don't have enough teammates to play a full game if we're not all on the team. We are [also] exploring trans lesbians."
According to The Hollywood Reporter, Jodi, "a rebellious teen with absent parents," will be played by trans actress Sophie Giannamore. In addition — trans actress Jamie Clayton (Sense 8) has signed on to play Tess, "a no-nonsense bartender who sees other people clearly but has a blind spot when it comes to her own relationships."
Giannamore and Clayton will join what currently is growing representation of trans people within film and television — with trans actresses such as Euphoria's Hunter Schafer and the large trans and queer ensemble cast of Pose.
Creator Ilene Chaiken told NBC that the idea for a reboot came together shortly after Donald Trump was elected President "I said, 'I'm calling you to say I think we should reboot The L Word, what do you think?'" Chaiken says that she wanted to find "some fabulous and gifted new young lesbians" who had something new to say about the experience of being a lesbian during our current climate.
The L Word: Generation Q is set to debut on Sunday, Dec. 8 at 10/9c.

out