Rachel Maddow is playing a role in the 'Batwoman' TV series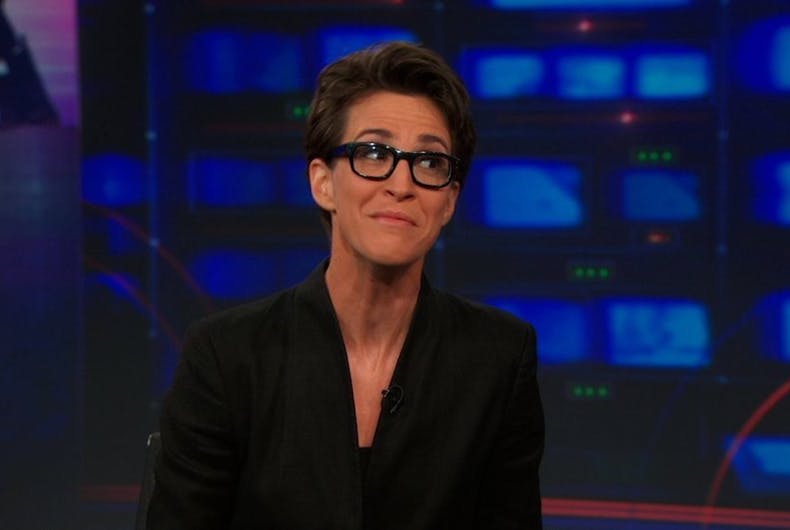 Rachel Maddow is going to make Gotham even gayer by playing a snarky radio personality in the CW's upcoming Batwoman superhero TV series.
While the show already features gender-fluid and lesbian actress Ruby Rose playing its titular lesbian superhero, Maddow will lend her voice to play Vesper Fairchild, a radio talk show host who (in the comics) became romantically involved with Batman's alter ego, billionaire playboy Bruce Wayne.
Sadly, Maddow won't actually appear in any of the episodes — she's merely voicing Miss Fairchild as a media presence.
In a statement to The Hollywood Reporter, Batwoman showrunner Caroline Dries said:
"We consider Vesper Fairchild to be the sardonic Voice of Gotham. In addition to Rachel's interest in Batwoman, we thought she'd be the perfect casting choice because her own hard-hitting journalism wildly contrasts Vesper's penchant for snark, gossip and criticism of female superheroes."
Maddow echoed Dries' sentiment in a recent tweet stating, "My character is soooo not me; turns out playing her is one of the most fun things I've ever done."
Vesper Fairchild –

DC Comics

Fairchild is supposed to be one of the good guys, but naturally things aren't always so black-and-white in Gotham. She's also supposed to be straight — in fact, in the CW's superhero series The Arrow, Fairchild was said to have once had a relationship with that show's lead superhero, Oliver Queen (aka. The Green Arrow).

In the show's first season, Batwoman's alter ego, Kate Kane, gets kicked out of military school and returns to a troubled Gotham City three years after Batman's disappearance. With a distant father, a former flame tugging at her heartstrings and a criminal gang targeting her family, Kane will take on the mantle of Batwoman and face adversaries like Hush, an enigmatic criminal from Bruce Wayne's past; Magpie, a thief who's attracted to shiny things; and Alice, the psychotic leader of the Wonderland gang.

The series premieres this Sunday.

Here's the latest trailer for Batwoman:




lgbtqnation
Tags: Rachel Maddow, Ruby Rose, Batwoman