Lesbian boxer risks jail and kisses her girlfriend in a defiant stand against Maldives' homophobic laws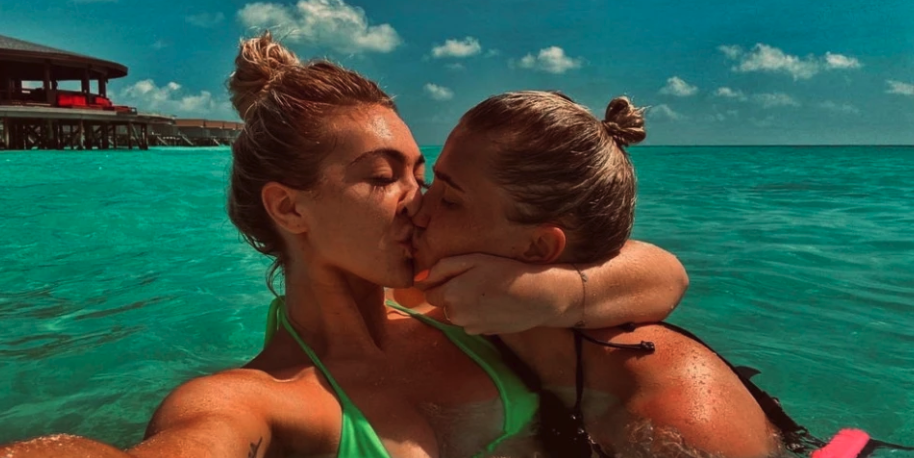 Same-sex sexual activity is strictly prohibited in the island nation and is punishable by up to eight years in prison for non-Muslims. Under Sharia law, homosexual Muslims may be fined, imprisoned, or given 100 lashes of a whip.
Earlier this year the LGBTQ+ Danger Index ranked the Maldives as one of the most dangerous countries in the world for LGBT+ travel, noting, among other things, the total lack of legal protections against homophobic violence.
This didn't stop Hunter, 24, who boldly tweeted a picture of herself kissing her girlfriend in the ocean.
The caption read: "Illegal to be gay in the Maldives and other Muslim countries still, in this day and age is mental, anyways this is our thought."
Britain's Foreign Office warns that people prosecuted for same-sex relations can face "lengthy prison sentences and fines", while the Human Rights Watchstates that extremist groups in the Maldives have previously "used social media to harass and threaten those who promote the rights of LGBT people".
Hunter reportedly took the photo down at the request of friends and family, who feared she might face repercussions from Maldivian authorities.
She later uploaded the image on her return to the UK, but it is no longer visible on her public Twitter or Instagram accounts.


April Hunter is blazing a trail in British boxing.
Fledgling welterweight boxer April Hunter is the first female fighter from Newcastle's Tyneside to turn professional since the 1990s – and she's definitely one to watch.
She started out as a teen at Newcastle United football academy before turning her skills to the ring, and although she's only had two professional fights in her boxing career, she was unbeaten in both.
osting on Instagram to mark the New Year, she said: "As I move into a new year with two professional wins under my belt, my confidence is growing, my skills are developing and my determination is now more focused than ever."
She is due for her next fight at the end of February against an as-of-yet unnamed opponent.

pinknews