Effigy of Gay Couple With Child Burned at European Carnival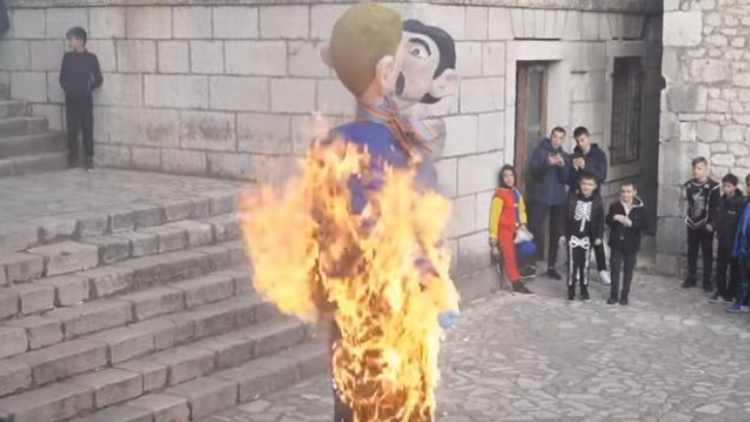 A crowd in Imotski, Croatia, cheered Sunday at the burning of an effigy representing a kissing same-sex couple holding a child.
The burning marked the climax of the small town's carnival celebration before the beginning of Lent in the heavily Catholic country. It came in response to some politicians' support for allowing same-sex couples to adopt or foster children. The nation's highest court ruled this year that same-sex couples can be foster parents but they cannot adopt.
"My head is spinning from this culture of death, and since my body is ailing, this year let's set this grotesque family with baby Nenad Stazić on fire," an announcer told attendees before the effigy was lit, Total Croatia News reports. Stazić, a member of Croatia's Parliament, recently endorsed foster-parenting rights for same-sex couples. The dummy representing the baby bore his face as well as a star similar to that on the flag of Yugoslavia, the now-defunct communist nation of which Croatia was once part.
Croatian leaders quickly condemned the action. President Zoran Milanovic called it "inhumane and totally unacceptable," the Thomson Reuters Foundation reports. On his Facebook page, he said the event's organizers "deserve the strongest condemnation of the public because hatred for others, intolerance and inhumanity are not and will not be a Croatian tradition." Education Minister Blazenka Divjak and Economy Minister Darko Horvat likewise denounced the burning, according to Balkan Insight.
The Rainbow Family Association, representing LGBTQ people who want to become parents, also expressed strong objections. "The scary scenes from Imotski cannot be justified by carnival customs. … What kind of message is being sent to our children, children who nowadays in Croatia grow up with lesbian mothers or gay fathers?" Daniel Martinovic, the association's coordinator, said Monday, Balkan Insight reports.
Organizers defended the burning. "We are a conservative society and are sticking by tradition," Milivoj Đuka, president of the Bako Ceremony Cultural Society, which runs the festival, told Croatian news outlet Slobodna Dalmacija. "Give a child to a mother, as the saying goes. We think this is the right thing to do."
One member of Parliament, Arsen Baulk, told Balkan Insight he planned to file charges against the carnival organizers. Like Stazić, he is a member of the Social Democratic Party.



advocate