Cara Delevingne Comes Out as Pansexual, 'Attracted to the Person'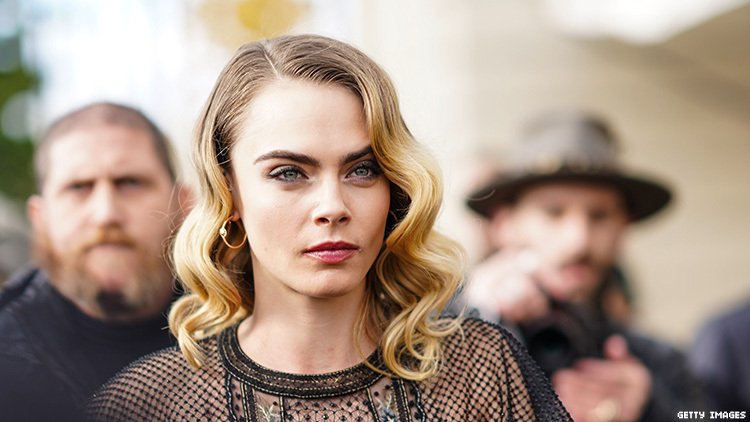 Actress and model Cara Delevingne, who has previously described her sexuality as bisexual or fluid, has now come out as pansexual.
"I always will remain, I think, pansexual," she said in a wide-ranging interview published this week in Variety; she graces the cover of the publication's Pride issue. "However one defines themselves, whether it's 'they' or 'he' or 'she,' I fall in love with the person — and that's that. I'm attracted to the person."
Of her gender identity, she said, "The thing is with me, I change a lot. I feel different all the time. Some days, I feel more womanly. Some days, I feel more like a man."
Delevingne, currently starring in Amazon's Carnival Row, recently ended her relationship with actress Ashley Benson. In the Variety interview, she didn't go into specifics about the relationship or the breakup, but said, "I've always felt bad for anyone I've ever been in a relationship with. It's very hard to maintain the normality in it. I think it's why I tend to keep my private life a lot more private now, because that public thing can actually ruin a lot of things."
Delevingne was in Prague filming the second season of Carnival Row, in which she plays a character she's described as a "pansexual faerie," until the pandemic forced a shutdown of production. Six of the eight episodes are done, and Delevingne, who's returned to her home in Los Angeles, promised that whenever they are shown, audiences will be pleased.
"The second season is going to be so good, but I don't know when we're going to finish it," she told Variety. "And probably not until the winter, because it has to be cold outside and snowing and miserable."
She also has been making music. She's writing songs, and she was a background singer on the title track of Fiona Apple's recent album Fetch the Bolt Cutters. "I felt like I met my musical soul mate," Delevingne said of Apple.
In the interview, Delevingne went into several other subjects, such as Harvey Weinstein's predatory behavior (which she's addressed in several interviews) and suggestion that she had to publicly date only men if she were to succeed in Hollywood. "To me, the idea of having a beard was — I'd heard it happen before — I just felt so disheartened by it," she said. "Do you have a conversation with a dude, and they're like, 'I'm going to pretend to be with you but not really love you'? I kind of think when I was pushed more that way, I realized how much more I needed to go the other way."
Delevingne is also a major activist, working for LGBTQ+ youth through the Trevor Project, and she was spotted this week at a protest against racism and police brutality. "We hear from young people every day who draw inspiration from their idols like Cara," Sam Gold, the Trevor Project's manager of talent engagement, told Variety.
She wishes her younger self, struggling to accept her sexuality, had had such inspiration. Of being on Variety's Pride cover, she said, "I wish I could have told my 16-year-old self that, because honestly, I never would have believed it."

Out
Tags: Cara Delevingne,